Mark_Niko
Forum Creator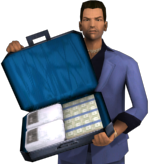 Server Rank

: Creator, Scripter, Developer


Posts

: 66


Joined

: 2009-11-01


Age

: 25


Location

: Denmark

Biography
Character Information:

Subject: Application Form Wed Jul 21, 2010 8:38 am

---

Copy this form, and make a new topic if you wish to become a special character.

Server name:
Forum name:
Which character do you want to be?:
What do you know about this character?:
Write down some known quotes, action etc. about the character:
Why do you want to RP as this character?:
Explain RP, DM, PG, MG, OOC, IC:
Anything else you want to add?:

LIST OF AVAILABLE CHARACTERS:

- The Truth
- Kent Paul
- Maccer
- Ken Rosenberg
- Madd Dogg
- OG Loc

Same as with faction application, your application need to look good and professional, or else you won't get the skin, you have to know how to act like your character, and don't RP too much away from the person, the only catch to get a special skin, is that you can not join a gang/faction.